Why choose University Centre Reaseheath?
Since the time for prospective uni students to get their offers is upon us, I thought I'd do a bit of a write up on uni life. If you're reading this post you're probably already considering University Centre Reaseheath, so I'm going to tell you why it's the place to come to this September. My name is Charlotte and I'm a first year Equine Science BSc student for those who don't know, I'm also a Student Ambassador so if you attended any of our Open or Offer Holder Days, the chances are you will have seen me working!
University Centre Reaseheath is quite a unique place to study your degree. With a more laid back atmosphere, with smaller lectures, it's more like your own little community. You aren't just a number to your lecturers, you're a name and they actually know you and the way that you work. Smaller class sizes also mean it's much easier to ask questions and I find you get more out of the lectures that way too.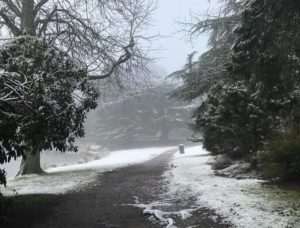 Reaseheath has a beautiful campus that is based in Nantwich, Cheshire which is one of the hotspots for the equestrian world in the UK if you're an equine student. We're really lucky where we are with the land we have around us; you don't need to go far to get lost in the countryside but equally we have Nantwich town centre just 5 minutes away which has various places to eat, as well as local cities; Manchester and Chester just an hours drive so it's really got something for everyone.
There is so much going on on campus that you're always busy, which is why it's impossible to be homesick if you decide to live in. With social and RAG events in the evening, activities in the day and various societies to join there's no shortage of things to get yourself involved in. The Student Services team take us into town on minibuses to save on taxi money, as well as on day trips and to the shops for the students who don't drive so everything is really accessible for everyone.
I can't fault the team here at Reaseheath in the slightest; parents will have no need to worry about their son or daughter coming here. To give you an idea, I was possibly the worlds most introverted, shy and awkward person on the planet when I started here at Reaseheath. Now, I'm a course rep, work as Student Ambassador and am on the Student Association, I've joined the RAG society (our charity for this year is Diabetes UK) and have met so many fab people that I'd never look back. Good luck with your decision & I hope to see you in September for our Freshers weeks (which you can check out in this video below).